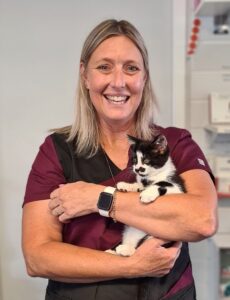 Adrienne
Reception Manager
Adrienne joined the team in February 2023 in a full time role. She graduated as a Vet Nurse in 1997 and worked locally until 2006 when she left to work for a large pet food manufacturer based in Auckland.
After 14 years and dearly missing the frontline of the veterinary industry  she is back, this time in a front of house role managing our reception. Immersed in the world she loves once again, she is looking forward to meeting you all!
Adrienne, along with her husband & daughter live in Whitford on the all-consuming lifestyle block where they breed Quarter horses & Australian Lowline cattle.
In her spare time Adrienne shares her love of motorsport with her family
and also competes her horses in Western Performance Events.
Steph
Receptionist
Steph worked at a large pet food manufacturer based in Auckland for 3 years before becoming the animal emergency reception team leader at a local emergency clinic until she joined us in August 2023.
Cat welfare is close to her heart and for a few years she was heavily involved with Lonely Miaow working her way from a fosterer all the way to deputy chairperson. Even though she doesn't work with a rescue anymore she is still very passionate about cat welfare and does what she can helping rescues in Auckland.
Steph has quite the collection of furry friends at home. Her cats –  Henry, Sadie, Ellie and Duckie, Rufio who are all Lonely Miaow foster fails. She also has a blind cat Sullivan who was found on the side of the motorway at 4 weeks and hand raised. These 5 cats have a canine pal -Juno the schnoodle who is currently 10 months old.
In their spare time Steph and her partner enjoy taking their 1968 Kombi out to show off at classic car meets and shows. They named her the Milk Bottle as she is white and looks like the lolly! "It puts a smile on so many faces and leads to lots of awesome conversations and stories with the older crowd from the kombi adventures in their youth"
Steph is here in a part time role and you will find her at Whitford every Monday and at Pakuranga Wednesdays- Fridays.