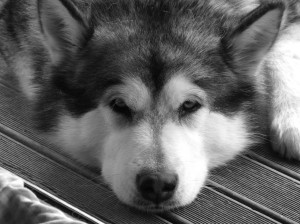 Kobe is a delicious 8 Year old Alaskan Malamute that is a much loved member of the Devenie family.
She is one of our biggest success stories of all time and certainly came as close to death as was possible but yet made a miraculous recovery.
During a vet visit for arthritis in 2013 Kobe's owner mentioned that even thought she was not speyed due to her status as a show dog, she had not had a season for some years. This is not normal as most entire bitches will cycle 1 or 2 times a year for their entire life and we were keen for the owner to consent to spey her as soon as possible as we were concerned she have issues with her ovaries. A few months later Kobe developed a growth on her mammary line and the spey was booked in.
It was expected that Kobes' surgery would be more challenging than a normal spey but on opening her up it was discovered that her entire left ovary was an enormous tumour the size of a rockmelon!!! And this was firmly attached to her kidney.
A second Vet was called in to assist with the operation and the tumour was carefully and gently separated from the kidney . A large number of blood vessels were identified and tied off but this is where things became perilous as a major haemorrhage started to fill Kobes abdomen with blood coming from an unidentifiable source. As the team raced to resolve the problem it was estimated that Kobe lost nearly half her blood volume and her blood pressure fell to an alarming level. Eventually the bleeding stopped and the rest of the operation to remove her remaining ovary and uterus was uneventful. Huge praise is required to the team for the quick and calm problem solving effort which was required.
We really thought at times that we would lose her.
A blood transfusion was required in order to help Kobe recover faster and Evie an Airedale terrier was kindly offered by Anya one of our nurses. Evie was to donate 450mls of blood which was instantly transfused into Kobe. Luckily, unlike humans a dog doesn't need to be blood typed for a blood transfusion in the first instance.
The next 24 hours were critical if Kobe was to survive, her bleeding could start again at anytime – everyone was anxious for her as she headed off for critical care monitoring overnight.
We were surprised to see Kobe walk into the clinic the next morning wagging her tail!
Kobe is a star she made an amazing recovery with no complications what so ever. The tumour that was causing her such serious health problems was tested and found to be benign. We are pleased to report she is now back to her normal (if not happier) self and enjoying the fuss of being our miracle dog.
Sadly in 2014 Kobe's cancer came back and she passed away the June. All the staff at the clinic will greatly miss this big gentle bundle of fur.