Linda
Practice Manager/Veterinary Nurse
Originally our head Veterinary Nurse, Linda is one of the longest standing staff members. The animal enthusiast is now Practice Manager and is a big believer of doing things better and being involved in ongoing training and development . Her bubbly personality, infectious laugh and dedication to her job is appreciated by staff and clients alike.  Linda runs the Puppy Preschool at the clinic & has a passion for dog training & behaviour.
Linda keeps busy out of work taking care of her two daughters and hubby as well as their Border Terrier Dexter and cat Teddy.
Anya
Senior Veterinary Nurse
Anya started with us many years ago in the cattery & loved it so much she decided to study Vet Nursing! After graduating at the end of 2010 from her Diploma in Veterinary Nursing at Unitec & some overseas adventures, Anya joined us as a full time nurse.
She has a natural passion for animals and had a large menagerie of pets at her family home giving her a wealth of knowledge, including exotics.  Outside of work Anya is an avid soccer player & loves spending time with her young family. She can be found at Pakuranga part time.
Clare 
Senior Veterinary Nurse
Clare joined the team in January 2014 after living in the UK.  She qualified in England and worked at a clinic in Middlesex for 12 years before moving back to NZ.
Since becoming a Mum, Clare is here in a part time role at both clinics.  She enjoys keeping up with all our lovely clients and immersing herself  in the veterinary world.  
Clare is a  cat lover and a big fan of tabbies.  She welcomed a gorgeous little tabby kitten into her home recently and her 5 year old daughter has named him Eggy!
When not at the clinic Clare is kept busy with her 2 young children and enjoys getting out and about visiting new places.  Clare enjoys photography and has recently become a bit of a lego addict!
Jocelyn
Veterinary Nurse/Whitford Team Leader
Jocelyn joined the team in October 2019 working at our Whitford branch.  She had covered one of our nurse's maternity leave a few years ago and it was lovely to welcome her back into the fold as a permanent staff member! She now splits her time equally between the 2 clinics, working 2 days at Whitford and 2 days at Pakuranga.
Jocelyn completed her degree in Applied Science Animal Management and welfare in 2011 and her diploma of Veterinary Nursing in 2014. When not at work her young children keep her busy and on her toes!
Allanah
Veterinary Nurse
Allanah joined the team at Pakuranga in November 2019 after spending some time with us as a student before qualifying. She enjoys immersing herself in the surgical environment and then following through the care of her patients as they recover in the hospital.
Allanah has recently returned one day a week to ease back into clinic life following her maternity leave. She is loving her new role as a Mum to her gorgeous little boy!
When she's not at work Allanah enjoys playing tennis, getting out and about in nature and spending time relaxing with her 2 beautiful cats Casper, Paris and Freddie.
Savannah
Veterinary Nurse
Savannah graduated from Unitec in 2017 with a Diploma in Veterinary Nursing and worked at a couple of Auckland clinics before joining us in September 2021. 
Savannah can generally be found out in our hospital department as she loves being involved with the day's surgical cases.
Life outside of work is very busy for Savannah keeping up with her 2 young boys, but she can always find time to whip up some beautiful cakes!  She is the proud owner of Hana, a gorgeous tabby cat. Savannah rescued and raised her from just 3 weeks old!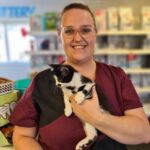 Jordyn
Veterinary Nurse
Jordyn qualified in November 2022 and joined our nursing team in February of 2023.
During her time as a student at Unitec she worked at a local vet clinic to gain experience before joining  our team in a full time role
In her spare time Jordyn enjoys hanging out with family and friends as well as spending time with her 2 cats and 2 dogs. She is also a keen baker!
As well as being an animal lover, she is also an lover of plants and has many inside and outside her home that she tends to.
Jordyn loves being a vet nurse and enjoys learning new things every day. Her favourite part of the job is caring for our hospitalised patients and seeing through their care from admit to discharge.
She is here in a full time role at our Pakuranga clinic.
Anthony
Veterinary Nurse
Anthony is originally from the Philippines where he qualified as a Veterinary Surgeon in 2008 before working in both general and emergency medicine. 
He moved with his wife to New Zealand in 2018 and began his Veterinary Nursing studies at SIT in Invercargill.  He then worked in an emergency clinic for a few years before joining  Pakuranga Vet Clinic in July 2023.
In his spare time Anthony enjoys playing basketball and airsoft. He also enjoys camping and biking. You can find Anthony at our Pakuranga branch 5 days a week.

Raissa
Veterinary Nurse
Raissa has a background primarily in general practice, as well as experience in emergency/critical care and charity/voluntary work. 
She joined our team in August 2023 and is at our Pakuranga Clinic in a full time role. Raissa has a special interest in companion animal anaesthesia and analgesia, and spends most of her time in surgery. 
She is a passionate patient advocate and enjoys utilizing a low-stress approach to patient care, to ensure they feel as safe as possible during their visit with us. 
Outside of work, Raissa enjoys pilates, bouldering, visiting our beautiful NZ beaches and eating delicious food!! 
She is kept very busy at home  looking after Mello (a failed foster brindle staffy mix), Clover (an ex-SPCA kitty), Kimba (a very 'fluffy' aka fat ragdoll mix) and Ben-Ben (a hilariously conniving ex-Paw Kitties rescue)!
In Memoriam 
Katherine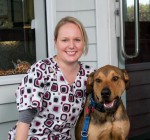 The world lost an incredible human and one of the three founding trustees of The Rock Vets on Saturday the 28th of December 2019.
Katherine Harris was our senior nursing manager and one of the most beautiful treasures we have had the privilege to work with.  She was an amazing friend and colleague for over 13 years at Pakuranga and Whitford Vet Clinics who founded the Trust.
Katherine loved Niue with great passion and was devoted to our work there and to the island.  She worked long hard hours towards making each clinic work better and be bigger than the last.  It is an understatement to say that our achievements on Niue are in great part due to her dedication.  She was truly inspired and cherished our sponsors and she threw herself into fundraising at every opportunity. Many of the sponsor posts and all of our banners, T-shirt's and car magnets were designed single-handedly by her. She sent a million emails, designed our stock list forms, made orders, got quotes, packed supplies and asked for any donations from any supplier she could find. 
She had an incredible empathy and work ethic and was a highly skilled nurse and manager. She trained many young nurses and was a genius at everything she put her mind to.  Katherine was passionate about Niue and loved the work with all her heart.
Kat (as we knew her) was given a second chance at life through a new set of lungs over seven years ago.  Someone's greatest loss gave her the greatest gift.  She was a strong advocate for organ donation and spreading the word to have the conversation with your loved ones no matter how hard it may be. Cystic Fibrosis brought her a world of challenges but she was always so positive and energetic and never let it stop her achieving her dreams.
Katherine did not waste a precious moment and lived life to the fullest and relished every incredible adventure this gift of lungs had offered her.  Without them she would never have been able to go to Niue, to work for the animals and people doing what she loved so much.   She was also able to enjoy the many sea tracks and snorkeling adventures and beautiful food on offer.  If only it could have been for so much longer but we are so grateful for what she brought to us and we miss her every day.  
May she Rest In Peace and forever breathe the fresh air of heaven and go for long walks with her beloved dog Page who crossed the rainbow bridge a few years before.