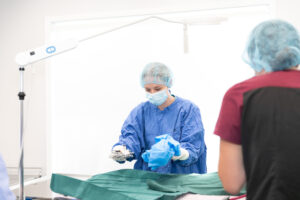 At Pakuranga Veterinary Clinic we are able to provide you with a wide range of surgical services, from standard procedures such as de-sexing and dental care, through to more complex orthopaedic and soft tissue surgeries.
In most cases the procedure involves your pet coming into the clinic in the morning, and usually they can return home that afternoon. These details will be explained with you prior to your pet coming into the hospital.
We provide modern anaesthetic equipment, intensive monitoring during and after surgery and careful consideration to pain management as well as fluid therapy. Our support staff are qualified to ensure a safe and smooth ride for everybody.
Orthopedic Surgery
We can offer referral to a Veterinary Specialist Clinic if required or at Pakuranga Vet Clinic we can now offer more advanced complex Orthopedic surgery at a more affordable price than a referral Vet Specialist Clinic.
Some of the surgeries we now offer include: Cruciate Repair (including TTO,TTA and the new MMP procedure), Luxating Patella repair, Bulla Osteotomy and Advanced fracture repair to name a few. WE also offer Brachycephalic Obstructive Airway Syndrome (BAOS)
.
Naomi Dally is our very skilled surgeon and has vast experience with a broad range of surgery including many complex orthopedic surgeries. We are very lucky to have her as part of our team and to be able to offer her expertise and services to our clients.
If your animal requires a complex surgery please phone the clinic and ask for an appointment.
Modified Marquet Procedure (MMP)
(For Cruciate Ligament repairs)

Click for more information on MMP Surgery
Brachycephalic Obstructive Airway Syndrome (BOAS)