SASHA NOWELL
Practice Owner Veterinarian, BVSc (Dist).
Sasha graduated from Massey in 1998 with distinction. She went straight into mixed practice where she became proficient in a wide range of surgical and medical areas.  Sasha subsequently worked in County Durham in England for four years, and was promoted to lead veterinarian as her surgical and medical knowledge and skills increased.  Sasha returned to NZ in 2004 and started work at Pakuranga Vets as a sole charge veterinarian.
She is a breeder of Italian greyhounds, a unique and toy breed of dog.
Sasha is known for her honesty and confidence, ensuring every client is well informed and comfortable with what is happening to their pet.  At times sharing in the heartache and loss, which she feels is an important part of every vets commitment to their client.  She is able to customise care and take time to follow-up all cases over the phone or email.
On the 1st of August 2013 Sasha purchased the Pakuranga Vet Clinic & Cattery as the sole owner. She is delighted to share her knowledge, skill and passion with such a great team.
In November 2015 Sasha opened Whitford Vet Clinic as a branch clinic to Pakuranga. She is excited to be able to provide the same fantastic service to the Whitford community that she provides in Pakuranga.  Sasha is now mainly a consulting veterinarian as her focus is on running the two clinics.
Sasha is married to Scott and has three children, Avadee, Tawny and Dempsey.  The home menagerie consists of Bindi the Chihuahua cross, Cricket the Italian greyhound, Scout the GSP and a couple of tortoises. 
Sasha spends a large amount of her free time travelling around NZ with Avadee who competes to a high level in equestrian show-jumping with her pony Simba and horse Sash.
NAOMI DALLY
Veterinarian BVM&S BSc (Hons) MRCVS
Naomi graduated from the University of Edinburgh in 2006 having already completed a degree in human anatomy at the University of Liverpool. She went straight into small animal practice despite loving large animal work and being a keen horse rider.
Naomi has worked in a number of practices across the UK, from Norfolk which saw a large number of working dogs, to the North of England where she worked in a very busy small animal hospital. Naomi has a particular interest in neurology, orthopedics (including specialized MMP cruciate surgery)and animal behaviour, and particularly enjoys the many different surgeries that small animal practice has to offer.
 In 2013 Naomi, her husband and son moved to New Zealand where she has been working full time until the arrival of their daughter  in early 2015. She joined the Pakuranga Vet Clinic team in August 2015 and works four days a week at the clinic.
In their free time the family all enjoy cycling and have completed some of the numerous multi-day trails around NZ.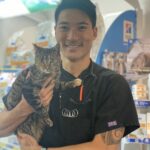 Jonathan Liu
Veterinarian, BVSc.
Jon joined the team in May 2021 and has quickly become a firm fixture. Jon was born in Taiwan, raised here in NZ before attending an American secondary school in Shanghai, China.
He attended  the University of California where he earnt his Bachelor of Science, then attended Ross University in St Kitts to obtain his Veterinary degree.
Jon speaks both English and Mandarin fluently and has a basic understanding of Spanish.
When Jon is not here attending to his patients  he is an avid indoor volleyball player and also plays many musical instruments including saxaphone, clarinet, harmonica and ukulele.
Jon has always loved animals and grew up with 6 dogs, 8 chinchillas, 3 iguanas, 2 charmillions, birds, fish, tropical frogs, a bearded dragon, a hamster and rabbits (all at the same time!) He currently is the proud owner of 2 beautiful tabby cats, Athena and Sir Mauington! Jon is at our Pakuranga Clinic in a full time role.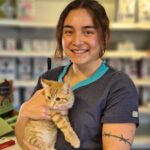 Anna Siohane-Royle
Veterinarian, BVSc.
After graduating from Massey University in 2020, Anna moved to the South Island to be closer to New Zealand's greatest mountain ranges. She made good use of her backcountry hut pass, and managed to fit in a lot of hiking and exploring. Despite the impressive surroundings, she missed some of that Auckland City charm and moved back early 2022 before joining us in the April.  She is at our Pakuranga Clinic in a full time role.
Anna is very interested in preventative medicine. Caring for pets from day one, and supporting their needs as they grow older. Outside of the veterinary field, Anna likes to be outdoors – running, bouldering, hiking, mountain biking. Most recently she has started surfing, which she has found to be harder than anticipated. 
BECKYLEA HURCUM
on parental leave
Veterinarian, BVSc.
Beckylea graduated from Massey in 2020.  She has studied both production animals (cows,sheep,goats etc) and companion animals (our domesticated friends)  before deciding she preferred the latter and joined our practice in 2021.
Growing up on a lifestyle block Beckylea has grown up with a love for animals.  She always thought she was a dog person until she fell in love over and over with all the Lonely Miaow kittens we care for in the clinic.  It wasn't long until she provided one with their forever home at her place!
When she's not at the clinic Beckylea loves to travel, hike and read.  She has a special fondness for Harry Potter books!  Beckylea has done many amazing things in her life but what she considers her greatest achievement (apart from qualifying as a Vet) is her climb to Mt Everest Base Camp in 2015!
BRYAN GARTRELL

Veterinarian, BVSc.
Bryan joined our team as a locum in 2013. He graduated from Massey University in 1973 and for most of the years since graduation he has owned and developed his own practices. He has taken the opportunity to experience a very large range of veterinary work. Bryan has worked with every animal from reptiles, birds, small mammals, to horses and zoo animals.  He is a highly skilled surgeon and clinician and brings a wealth of knowledge to the clinic.
Bryan's main level of expertise is in small animals but he always kept his hand in with large animal and exotics. The challenges of trying to solve medical and surgical issues in different animals are an on-going source of stimulation for him.  Bryan is an expert surgeon for complex surgical cases and orthopedics.
When not at work or away you may find him playing in his boat or creating in his man shed.  Sadly natural attrition has hit all his beloved pets. Bryan and his wife Gael are away often so they have foster pets instead that come to stay regularly and their son's cat Biggie, that came for a holiday and never left!  They have two grown up sons and twin Grandsons!
We love having Bryan as part of the team, enabling us to offer more surgical services than ever before and to spend more time working on exotics, birds and reptiles.