News Article from The Howick & Pakuranga Times 21 July 2014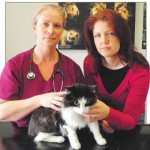 By Chris harrowell
TRAUMATIC: Working to ensure Oscar the cat fully recovers after he was shot with an air gun is Pakuranga Vet Clinic and Cattery owner Sasha Nowell, left, and his owner Rebecca Proffitt. Times photo Chris Harrowell
A CASH reward is offered for information leading to the police prosecution and conpolice prosecution viction of whoever shot a married couple's beloved pet cat with an air gun. Howickians Matt and Rebecca Proffitt realised something was wrong with their cat Oscar at about 6pm on Saturday, July 12.  "He seemed sluggish and offcolour and went into our bedroom behind the bed," says Mrs Proffitt, a former Times reporter.
"Oscar also didn't want to eat, so that was a worry." The Patons Road residents took their feline that night to the Manukau After-Hours Veterinary Clinic in Great South Road.  Oscar's heart rate was higher than normal and he was breathing rapidly.  An x-ray revealed an air gun pellet lodged in his body.  It had entered his body and passed his body and passed through it before stopping in his groin just under his skin.  He had blood tests He had blood tests done and was given fluids, antibiotics and pain relief.  Oscar appeared to be improving and was discharged from the afterhours clinic.
He spent a night at home before being taken to the Pakuranga Vet Clinic and Cattery in Johns Lane last Monday morning. He was operated on by the clinic's owner, veterinarian Sasha Nowell. "When we opened him up we saw his bowel was damaged," says Mrs Nowell. "There were four holes in it and damage to his blood vessels caused by the air gun slug." Mrs Nowell carefully removed seven-eight inches of Oscar's small intestine. He also had a large amount of bruising on his body.  "It would be an incredibly painful injury and is comparable to having been hit by a car," says Mrs Nowell.  Once the cat recovers from the injury and three-hour surgery it's hoped he will be able to live a normal and healthy life.
Animal rights charity Paw Justice heard about what happened to Oscar and is contributing $1000 toward his medical treatment.  Mrs Nowell's vet clinic is generously wiping the rest of the $2000 bill.  The Manukau After-Hours Veterinary Clinic is also making a significant financial donation toward the cat's care and recovery. Paw Justice co-founder Craig Dunn says his organisation is putting up a cash reward to help uncover who shot Oscar with an air gun.  "It's a substantial reward for information leading to the prosecution and conviction of the person responsible," says the East Auckland resident.  "Some people out there don't like cats and this is how they sometimes make their voices heard."
The incident has been reported to Counties Manukau Police and the Society for the Prevention of Cruelty to Animals (SPCA).  The Proffitts are overwhelmed by the kindness and generosity they have been shown since Oscar was injured.  "It's amazing all these people have taken Oscar into their hearts and want to help us," says Mrs Proffitt.  "The last week has been really stressful and upsetting, but we are so happy Oscar seems to be on the mend.  "Sasha and her team have been wonderful.  "We couldn't have asked for better care or more kindness." People with information on the shooting of Matt and Rebecca Proffitts' cat Oscar with an air gun near Patons Road, Howick, on Saturday, July 12, can phone Paw Justice on 550-0541, or send an email to info@pawjustice.co.nz.
Alternatively, phone Howick Police on 362-1132, or the free and anonymous Crimestoppers tip-off line on 0800-555 -111.
gun is Pakuranga Times photo Chris Harrowell