Welcome to the Pakuranga Vet Clinic's Cattery Service.
We aim to provide a safe and caring environment when a cattery option is needed (e.g. holidays, travel, sale of home etc.) The service provides to the owners of cats, of all ages and breeds, peace of mind and the security of a professional operation.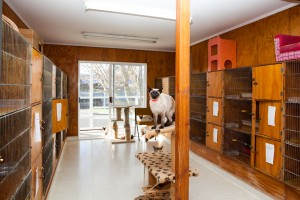 OVERVIEW
When you bring your cat(s) into the cattery, they will initially be placed into their cage. This helps them to adjust to a new environment and lets them get used to the different sights and sounds of the cattery. Each cat has his or her own cage overnight every night. The purpose of this is so:
We can handle them, check for illness and groom if necessary.
We can monitor that each cat is eating, drinking, urinating and passing stools.
To reduce stress, particularly for the elderly or nervous cats.
To ensure that cat fights do not occur.
After the morning meal the cats are released into the run. They have the choice of being either inside or outside on the enclosed deck. Each morning bedding is laundered, litter trays are cleaned, and fresh water is placed into clean cages. Favourite bedding items and toys are welcome. Please ensure all items are indelibly labelled so they can be returned to the cage or you.
MEALS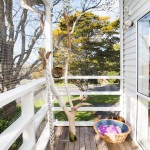 Food is offered morning & evening. We primarily use the Royal Canin premium food, although other quality diets are available. As are canned foods should that be your cat's preference. For cats that are used to grazing, food is left with them overnight. We are unable to leave food in the run during the day as this may cause medical problems with cats on medication or with dietary intolerances.
VACCINATIONS
STRICTLY ADHERED TO – FOR THE BEST INTEREST OF ALL BOARDERS.
Vaccinations must be current within a 12-month period to include the boarding time. All certificates must have full details (incl. Kitten vaccinations) or a minimum of 3 years previous history. If vaccinations need to be updated then a 7 day lay period must be observed. For cats whose vaccines have lapsed please contact the clinic for further details.
DESEXING
We require all cats, over 6 months of age, coming into the cattery to be desexed.  This policy help to ensure a peaceful environment for all of our boarders.
WORTH A MENTION
Due to space restrictions we can no longer store cat carry cages in the cattery. If you are unable to take your cage away with you, we can loan you a cage to bring your cat in.
For bookings over the Christmas period it is essential to book well in advance as it works on a first in first serve basis and we are usually fully booked well before August.
Exports & transfers nationally can be catered for including airport transportation and veterinary exportation requirements.
CHARGES
We charge per night, regardless of whether you pick up in the morning or in the afternoon. We can accommodate for days visits as well if you are considering a child's birthday party or a spot of painting at home.
$17 per night/per cat
Our concession card works well for our regular boarders at $408 for a 28 night stay (equiv to $14.57/night) Valid for 2 years. Pre Purchased from the clinic. Nights are ticked off as used.
Charges differ at our peak time from 20th Dec – 10th Jan & no discounts are given over these nights
A one off $20 surcharge applies for Easter weekend (If boarding for only one of the stat days we only charge $10)
For those cats requiring medication we charge an additional $2 per night.Cats on medication require more staff time and documentation. Due to the nature of prescription drugs we follow strict paper work and additional training for our cattery staff. It is also a reflection of the storage and materials we use to administer and handle medications. (If you are using a Concession card this is discounted to $1 per night.)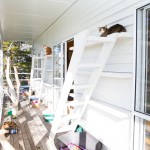 Charges include all meals, laundry service, cuddles and full use of facilities.
Please contact us for more information.
CATTERY HOURS
Mon to Fri 9am to 11am  & 4.00pm to 6.00pm
Saturday 9.00am to 11am
Sunday 5.00pm to 6.00pm
For drop offs or pick ups outside these hours please contact the clinic to arrange a time.
Cattery Public Holiday Open Hours 2019:
Mon 28th Jan –Auckland Anniversary OPEN 5-6 PM closed Sun 27th
Wed 6th Feb – Waitangi day CLOSED pick up Thursday 7th
Fri 19th Apr- Good Friday CLOSED drop off Thurs 18th
Mon 22nd Apr- Easter Monday OPEN 5-6PM closed Sun 21st
Thur 25th Apr- Anzac Day CLOSED pick up Friday 26th
Mon 3rd Jun- Queen's Birthday OPEN 5-6 PM closed Sun 2nd
Mon 28th Oct- Labour Day OPEN 5-6PM closed Sun 27th
Christmas/New Year:
Wed 25th Dec- Christmas Day CLOSED
Thurs 26th Dec- Boxing Day TBC
Wed 1st Jan- New Years Day CLOSED
Thurs 2nd Jan- CLOSED